Patience paid off for two Tokyo-based stores, with the help of the world's most famous spy.
Morita Tatami Mat Maker in Arakawa Ward and apron producer Anything Co. in Minato Ward began their efforts to enter overseas markets several years ago.
This year, companies have been inundated with orders from overseas and domestically since their traditional products appeared in the latest 007 movie, "No Time to Die."
At the film's climax, James Bond (Daniel Craig) confronts the villain, Safin (Rami Malek), in a room whose floor is covered with straw tatami mats.
Safin is an ardent admirer of Japanese culture, and a Noh mask and "karesansui" rock garden are also featured in the spy film.
The mats come from Morita Tatami, which was founded in 1933 and is run by a team of three: 57-year-old Takashi Morita, his father and an artisan.
Worried about declining domestic demand for tatami mats, Morita added an English language order form to the store's website to improve export opportunities in 2007.
In 2018, he received an order for 300 tatami mats to carpet a runway for a Paris Fashion Week venue.
For "No time to die", tThe store made 112 rugs, each measuring 180 centimeters long, 90 centimeters wide and 3 centimeters thick, in 10 days and delivered them via a furniture store in London.
"There was '007' at the end of the subject line of an email, but I thought it was a reference number," said Morita, a longtime fan of the series. spying.
The furniture store informed Morita that the tatami mats would be used in the next James Bond film.
Morita first recommended twisted yarn Japanese "washi" paper for the surface of the rugs to make them colorfast and water repellent. But the client insisted on using natural grass for the surface of the tatami.
After "No Time to Die" was released in Japan on October 1, Morita received orders from customers in Japan, including Ibaraki and Gifu prefectures, who said they wanted the same tatami used for the film.
"I would be happy if the reputation of foreign customers led to the re-evaluation of tatami," Morita said.
The film also has a scene of Q (Ben Whishaw), an agent for Britain's secret intelligence agency MI6 who supplies Bond with gadgets, wearing a "maekake" apron while cooking at home.
Crafted from sailcloth, the navy apron depicts Mount Fuji, a rising sun and the "Representative of Japan" in white.
The apron was made by Anything.
In 2005, company president Kazuhiro Nishimura, now 48, was fascinated by the traditional apron while visiting Toyohashi, Aichi Prefecture, where sailcloth maekake are always produced.
He learns cotton weaving techniques transmitted in the Mikawa region and improves the quality of dyes to begin large-scale sales in 2006.
In 2011, a shopper at a daily goods store in London fell in love with sailcloth maekake while on a trip to Japan.
Since then, Anything has sold 500 pieces in Britain every year.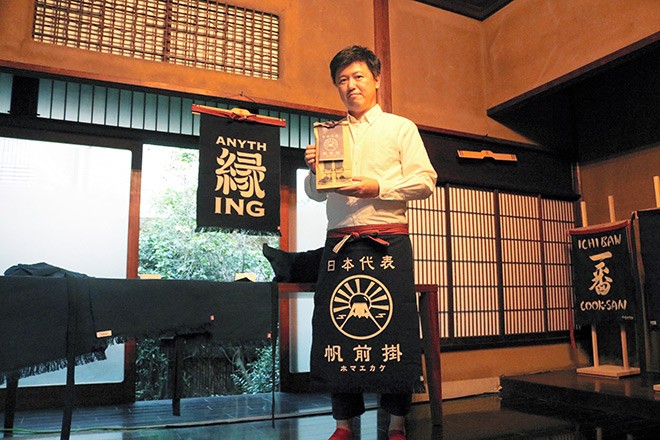 One caught the eye of a member of the wardrobe crew for the James Bond film.
Through the Daily Goods Store, Nishimura then received an offer to use the maekake in the film.
Within two weeks of the film's release, Anything received orders for 200 pieces from home and abroad, with many customers saying they wanted the same apron as Q.
Since 2009, the company has set up booths at trade fairs outside of Japan to promote sailcloth maekake. But it didn't sell when too much emphasis was placed on "Japaneseness".
In 2015, Nishimura transformed the stand into a simple sales section lined with aprons displayed with only a "Maekake" sign.
He also shows visitors how to tie the apron at the hips.
Currently, 30% of the company's total sales come from abroad.
"007's worldview, which values ​​the spirit of traditional Japanese aesthetics of 'wabi-sabi' and elegance, is similar to what we aim to achieve," the president said.